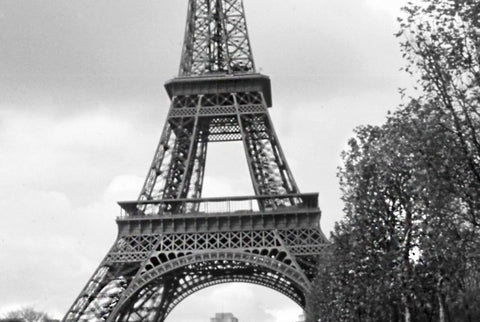 Pacing Through Paris With Eauk
Sometimes we get a review that makes up for both a great story and let us feel proud of the perfumes we make. One of those stories was written by Martin Green for Quill & Pad.
When traveling, I like to take samples of new scents with me. They don't take up much space and are small enough to conveniently pass through airport security. This also gives me some time to really experience a scent, run it through its paces, check on its longevity, and explore its deeper notes.
The end of summer 2018 brought me to one of my favorite cities in the world: Paris. The French capital is an intimidating city for scents, though, having been the birthplace of some of the most epic perfumes, including Chanel no.5 and innovative brands like Etat Libre D'orange. And it was in this city that I decided to try out Eauk Barreur.
.
RISKY MOVE…
This was something of a risky move for me as Eauk is a new brand and from a country that can hardly be called a player of any significance in the world of scents: the Netherlands.
And the brand currently offers only two scents. Next to Barreur there is Pomander, a bold and decisively masculine fragrance that combines cocoa, pepper, and caraway with leather and amber.
"Barreur," by the way, is French for "helmsman."
Whenever I am in Paris, my itinerary is always packed. And on this particular trip the weather was still unusually warm, making these nearly perfect conditions for a scent to triumph or fail.
One of the most remarkable aspects of Eauk Barreur is that it settles very quickly. Other scents often go through dramatic change, bombarding you with their initial notes like a show of fireworks until they reveal their true selves.
In this respect, Barreur showed its down-to-earth Dutch roots by passing on the theatrics, preferring to provide a waft of its potential and then sticking to the skin in a subtle yet firm composition. Its potent base releases an array of lighter tones in a sparkle that feels balanced to the nose.
The longevity of the scent is impressive: I applied it in the morning, worked, traveled, and ate my way through Paris all day. And by dinner it was still there.
COMFORTABLE COMPANION
It is one of those scents that becomes a comfortable companion. It also went perfectly with the city that Paris is, although that might be mere coincidence. Perhaps this is also because its notes feel more like something you drink at Angelina's then the high-end scent that Eauk Barreur is: cocoa gives it warmth, pepper its spice, and saffron a touch of the exotic.
The longevity and strong base are explained by leather and amber, the latter also providing the scent with its comfortable "glow." The beauty of Barreur is that Eauk allowed the different tones to complement each other without giving one a prominent, leading role. How very Dutch it is!
This also makes Barreur an exciting scent for a lot of different men, but also for a variety of occasions. If it had existed back then, it could have easily been used by Louis Cartier as he welcomed clients to Cartier's flagship boutique at 13 Rue de la Paix. Or Ernest Hemmingway as he went for a drink (or two) in the Ritz's famous bar.
My trip also included a visit to the ever-imposing Versailles. And as I trotted through the many rooms in the palace, I caught a whiff of Barreur and thought that Louis XIV had entered the room. But that was just my imagination.
Disclaimer: while Eauk was kind enough to provide me with a free sample, the brand was unaware it would be used for an article until I requested images. I have been in no other way paid or otherwise compensated outside of Quill & Pad to write this article.